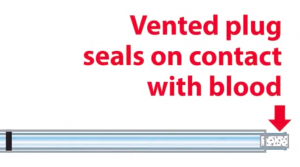 Drummond Scientific Company has been an SMS client for over 25 years, and throughout our relationship we've produced a number of video projects for them. Drummond is a manufacturer of microdispensers, microinjectors, micropipettes, pipette controllers, and innovative liquid handling tools for the laboratory so most of these videos involved product demonstrations and all were shot using our in-studio lab counter setting. Most recently, however, we were asked to produce a video for an upcoming trade show of a product that was, quite literally, too small to shoot.
Enter animation! Animation is ideal for products and processes that are difficult to see with the naked eye. Drummond's Plasma Gel Separate Tube is a capillary tube used for separating microliters of plasma and is itself situated inside a Mylar sheath. Highlighting the features of such a product required modifying existing artwork used for collateral materials and enlarging it by over 500%. This also meant redrawing some areas to exaggerate them so that certain details could be identified. Once that was accomplished, all the pieces were then animated for a minute long presentation. The entire project took approximately ten hours to produce.
See the video below:
– S. Norton
For more information on how your product can be demonstrated through animation, feel free to contact us for a free, no-obligation consultation. Or, simply fill out the short form on our homepage.