Not every answer is another four color ad.
Scientific Marketing Services, Inc. was founded in 1979 by southern New Jersey native Robert W. Norton. Through his experience as a marketing professional in the laboratory glassware industry, "Bob" recognized that advertising and marketing teams in the B2B high-tech, industrial and manufacturing marketplace required an agency partnership that understood their unique challenges and offered a broad range of services that would make meeting those challenges affordable.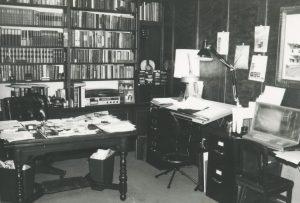 Seizing the opportunity to service those needs and utilizing the relationships he'd built over the years, Bob started SMS in the library room of his home. He focused on practical, low-cost marketing tools such as press releases that conditioned the market for more aggressive advertising campaigns. Gradually, his client roster grew and the space required to service them expanded in kind. Today's more compact technology has replaced the need for drafting tables and tape-based editing suites but the tools are more powerful than ever before. SMS has managed to adapt and adopt, but the core charter remains: a different kind of agency that uses its knowledge of B2B markets to strike the right balance between practical and creative.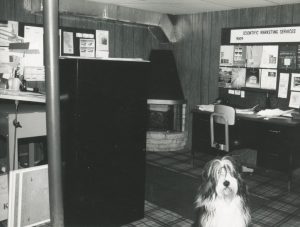 We Know Your Market, and Speak Your Language.
Chief among the essential skills required to properly service these niche, B2B markets was (and still is) knowing their customers and how to reach them. Many companies were looking for someone to write copy that not only demonstrated technical expertise, but also the kind of messaging that transcended traditional "tech speak". Bob's early meetings with prospects often resulted in spontaneous cheering when he assured them his company could do both. He would go on to find account representatives with a wide range of industry experience to join him and continue the important differences the SMS partnership brought to their clients.
A Different Kind of Agency.
The next critical facet of building a successful partnership was supplying clients with a full range of in-house marketing tools operated by a creative staff of artists, writers and experienced marketers. The rule was "hire an artist, train the technology". Applying inherent creative instincts to ads, literature, logos and video presentations elevated the work beyond serviceable and pushed the kinds of boundaries that differentiated clients in their marketplace. Even better, coordinated in-house services meant no stacking vendor markups or message inconsistencies. SMS was specifically designed to put every budget dollar into the marketplace where it belonged.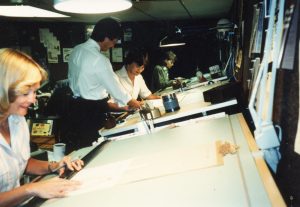 Another vital aspect of cost-effective SMS marketing involved the careful implementation of a comprehensively researched marketing plan. This is where an in-depth understanding of a client's markets informs the best mix of activities for creatively reaching them. Milestones are scheduled and dutifully met, ensuring prompt market responses and real time adjustments. Budget plans remain a core difference in the SMS approach, keeping investment resources working as efficiently and effectively as possible. And each and every initiative is imbued with the same core principle that has held fast over the decades, regardless of technology: if you're not addressing what's in it for the customer with every word, image and idea, you're not selling – you're telling.
Not Just Different...Better.

Another key difference reflected the personality of Bob's family-style agency – SMS refused to force clients to sign contracts or pay retainer fees, standard in the industry at the time. Even today, all work is quoted on a project-by-project basis and agreed with a handshake. The importance of real relationships in business remains the backbone of true progress, even more so in a world run by technology that often isolates us. The tools may change, but what hasn't changed is the power of trust – SMS partnerships have always been built on it, and that will forever remain our goal.
SMS is a family, first and foremost.
We consider out clients family, too.