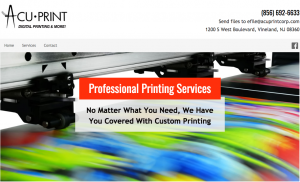 Acu•Print is a small digital printing company that provides an expansive variety of professional printing services. They are located in Vineland, New Jersey and have been creating impressive printing pieces for the architectural, engineering and construction industries, and other professions for over 30 years. While their wide range of capabilities is impressive, they came to the realization that they were having trouble being recognized by consumers in their marketplace. With an outdated site and a small location, their visibility was not reaching its full potential, and as a result they were losing much deserved business. Once they recognized a change was necessary, they reached out to SMS to resolve their issue, and fight back against the competition.
Because a company's website is what drives a large percentage of visibility and interaction between the consumer and the company, it is becoming vital for a company's survival to have a strong online presence. Prior to SMS' changes, the site did not appear to be updated in quite some time, which is a deterrent for potential business to business customers where 85% of them look into a company's website before they decide to make a purchasing decision. That is to say that when they are still investigating where to spend their time and money, they will gladly move on to the competition if they are not pleased visually. SMS gave the site a sleek and professional look to reflect the kind of business they conduct. With visually appealing graphics that grab the eye's attention, it is sure to keep the viewer initially engaged and further their interest on the site.
A problem that Acu•Print specifically presented was the matter of customers not being able to find their store location. They noticed there was an issue with searching the address, which made it difficult for someone to give them business. SMS implemented the use of Google Maps directly on their website, pin-pointing Acu•Print's exact location with a visual map, complete with the option to retrieve clear directions in a separate browser by clicking on it. This allowed customers to find everything they needed to know about Acu•Print in one step, creating more convenience for the user.
The layout of a new website is tailored to be simple yet effective. It provides functionality by briefly describing the services offered, and a competitive SEO strategy by using specific key words in the copy of the site to increase the organic search results.
So if you're in need of an impressive trade show booth graphic to WOW the attendees, a custom made t-shirt with DTG (direct to garment) printing, or an enhanced and laminated photo that will carry your company to a higher look of professionalism, SMS encourages you to visit Acu•Print's new and improved website to see what their 30 years of custom printing experience can do for you!
– Angela Nolfi
For more info on updating your company's website through our problem-solving SMS web staff, send an email to [email protected] and/or reply in the comments below.