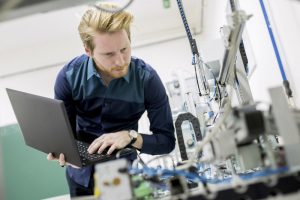 You know the routine: you spend umpteen hours and precious resources developing your company's website and the time comes to add the social media icons or "bugs". If you haven't already been maintaining a social media presence, you hold a meeting to decide which applications might be useful and the usual suspects get bandied about: Facebook, Twitter and LinkedIn. Conversations swirl around their effectiveness in your marketplace and the best ways to build your networks.
Soon, someone mentions that they don't even use social media and everyone looks at them wondering why they're even in the meeting until you realize they represent most of your company. "My wife uses it," you hear from one employee. "My kids made me a page but I don't even have a picture up," says another. Your research of other B-2-B websites turns up social media graveyards more often than not – companies that tried to use various platforms in various ways before eventually abandoning the idea altogether. Before long everyone is asking the same question: why are we doing this again?
Anyone who has tried to maintain a social media page for their company at some point begins to feel a sense of absurdity, as if they're off in a corner talking to themselves. Even if there's a healthy number of people in your network, over time the lack of responses creates a bigger and bigger echo from the abyss. So, the question remains: is there a role for social media in industrial B-2-B marketing outside of using it because everyone else is and your website may look old-fashioned without those darn bugs?
The answer, unfortunately, is "maybe". It really depends on the availability of content and one's ability to identify it and make it engaging. Yes, network building is important and adding a "Follow us on Facebook, LinkedIn, etc." to your signature blocks can help add people to your page but social algorithms may start cutting your content from their walls if there isn't enough interaction. A company with a social media presence is also at odds with prospects who already employ those applications for non-business related reasons. Your company message can jar someone who has been staring at memes for an hour, and not in a good way. Making your precious few connections angry is hardly the way forward.
And that means fashioning content to fit their flow. It can be done, especially by focusing on the people inside and outside your organization. Remembering that businesses are essentially made up of people who have real lives and similar problems and interests is a good start. Highlighting employees always gets a look, as eyes are drawn to faces. People are always curious about how others look, or wondering if they know anyone in a photo. If you want to shoot a machine, put someone next to it looking in. Light it well, and maybe even add some filters. You can try cocking the frame off axis, too – anything that makes it more interesting. Also, learn how to use hashtags (#). They will help your content reach beyond your closed network.
It can take practice, but posting to social media can easily become addictive. Before long you'll be seeing possible posts everywhere you look. Most importantly, social media content can positively affect your site traffic through SEO, so make sure your content is rich with keywords, both in the text that accompanies your photos (they're a must), and in your "About" descriptions. Those paragraphs that describe your company become your meta descriptions on SERPs. Also, adding links back to your website in your posts can boost visits when site content has grown a little stale. It's quick way to make up the difference until you can address your site properly.
The final word on social media and B-2-B marketing is that it requires serious attention to be effective. Like all things, what you put in is usually what you get out. Treat your pages as vital extensions of your marketing mix and they may become real weapons in your arsenal.
– S. Norton
For more information on developing an effective social media program, feel free to contact us for a free, no-obligation consultation. Or, simply fill out our short contact form.